Breast Health Clinic
We are proud to be part of the wonderful community who helped bring the Breast Health Clinic to Ottawa.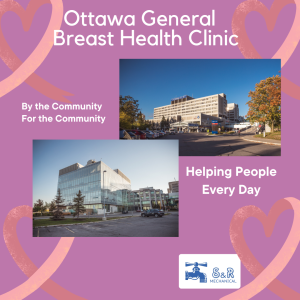 The Ottawa Breast Health Clinic at Ottawa General Hospital is a place that eases its patients' mind when they come in. Did you know that 1 in 8 women in Canada will have breast cancer in their lives. The community around this clinic saw a need for a safe and calming place for those who have been diagnosed that they helped fund this clinic. It's true the Ottawa Breast Heath Clinic was fully funded by donations and fund raisers started by the community.